Not what you were looking for? See: Chibi-Robo (disambiguation)
Chibi-Robo! Zip Lash (なげなわアクション!ぐるぐる!ちびロボ!, Lasso Action! Round and Round! Chibi Robo!) is a 2015 side-scrolling 2.5D platformer for the Nintendo 3DS and is the fifth installment of the Chibi-Robo! series.
Story
Earth's natural resources are vanishing – could eye-witness sightings of tiny UFOs have something to do with it? Whatever the case, Chibi-Robo must return to Earth to prevent an international crisis and send those thieving aliens packing!
Gameplay
Climb, jump, run and throw your plug and cord
Whip enemies and ricochet your plug and cord off of walls to solve puzzles
Tons of collectibles
Tap the new Chibi-Robo Amiibo figure to power up Chibi-Robo into "Super Chibi-Robo" or use a Toy Capsule Machine to unlock the in-game Collectible Figures.
Bundle Version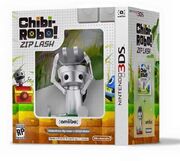 This is a special bundle that comes with an Amiibo. This Amiibo will transform you into the infamous Super Chibi-Robo. As Super Chibi-Robo, players will move faster and have a greater range for their plug. Leveling up the Amiibo unlocks special characters.
The Amiibo can be purchased separately on Amazon.com.
Gallery
| | |
| --- | --- |
| | To view Chibi-Robo! Zip Lash's |
Community content is available under
CC-BY-SA
unless otherwise noted.